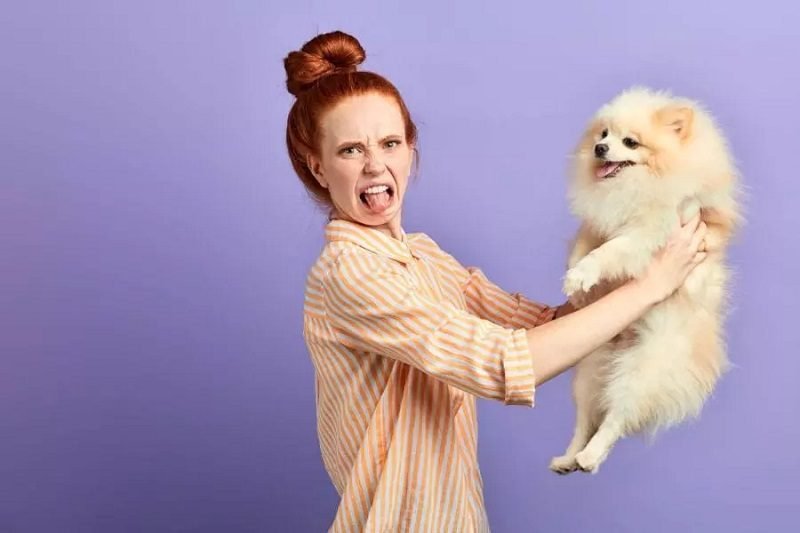 Many pet owners ask their vet, "why does my dog smell like fish?" Does your dog smell like he's been at the fish market constantly? Or maybe your dog seems to smell like a wet dog more than just after taking him out in the rain? Suppose you're wondering why your dog smells like fish. In that case, there are several possible explanations, from your dog's diet to possible periodontal disease, and all of them are common enough that most dogs probably have at least one going on.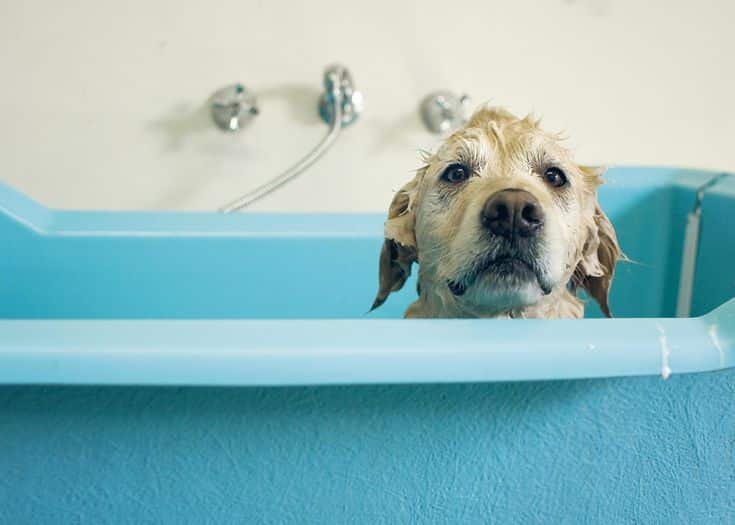 Fortunately, fishy odors are usually completely normal, and your pet is probably perfectly healthy! This article will cover why some dogs smell like fish and what to do about that annoyingly fishy odor.
WHAT CAUSES A DOG TO HAVE AN ODOR?
While a dog's natural body odor can vary depending on their breed, diet, and health, a few things can cause your pup to develop an unpleasant smell. If your dog smells like fish, it could be bad dental hygiene, anal glands, or ear infections.
Periodontal disease can cause fishy-smelling breath in dogs in some situations; therefore, cleaning your dog's teeth regularly is essential. No pet parents want to be greeted with foul-smelling breath, so a doggie dental will not only help cure bad breath but also prevent dental disease and is also suitable for your dog's health in many other ways. It is recommended at least once a year to have a dental performed to fix inflamed gums, any issues with your dog's teeth, and get your dog's mouth back on track from fishy breath.
Female dogs sometimes have a fishy scent to them more than male dogs due to their heat cycles and reproductive elements. You might notice your female dog smells more at certain times of the month than others; this is why. Your dog's fishy odor is likely nothing to be overly concerned about.
Some breeds of dogs have anal sac problems that can include: impacted anal sacs, infected anal glands, increased anal gland secretions, or anal gland disease. This doesn't affect all dogs and is prevalent in some breeds much more than others. Having your dog's anal glands expressed regularly is usually an easy fix. Keeping their anal glands empty goes a long way in preventing anal sac disease and eliminating that fishy odor.
When yeast infections occur in your dog's ears, this can also result in a fish smell. Treating a yeast infection promptly with antibiotics prescribed by your vet is essential. They may also recommend pain medication to help with the irritation that an ear infection can cause your dog. Lastly, an anti-inflammatory might help soothe your dog's skin and provide them more relief from the yeast infection plaguing them.
You will notice as an infection clears, that helps your dog smell better as well. Talk to your veterinarian if you're concerned about your dog's fishy smell. They'll be able to examine your pet and recommend the best course of action for getting rid of the foul odor.
And remember that all breeds are different. For example, the Newfoundland Dog (a Newfie) sheds a lot, but they typically don't stink because of the thickness of their coat. Yorkshire Terriers have short hair and can produce a bit of an odor when they get wet or dirty. A long-haired dog like a Saint Bernard can still smell pretty good with daily brushing because they don't shed as much as other dogs.
REASONS YOUR PET SMELLS LIKE FISH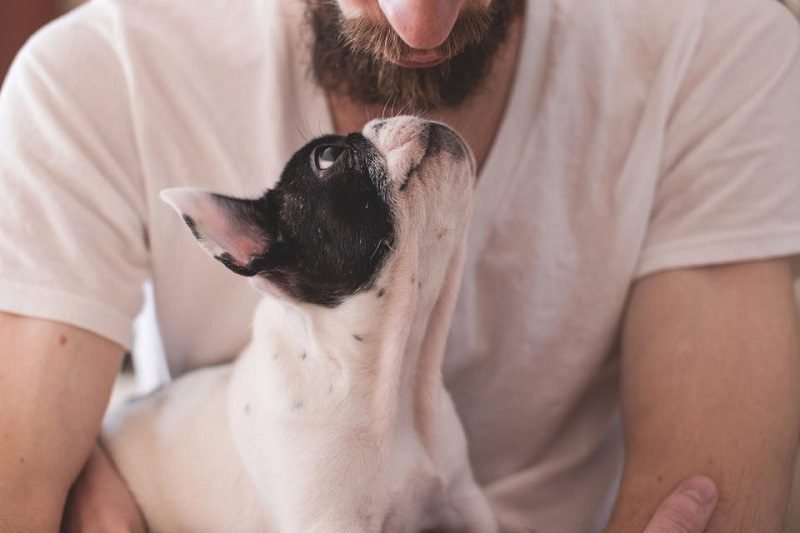 So precisely why does your dog smell like fish? While a dog's natural body odor shouldn't smell like fish, there are a few reasons why your furry friend might start to stink;
1. Some dogs have a natural fishy smell due to their diet or body chemistry.
2. If your dog has been swimming, he may have picked up a fishy smell from the water.
3. If your dog spends a lot of time outdoors, he may have rolled in something fishy.
4. A health condition could be causing your dog to smell like fish. Chronic ear infections can cause smelly ears and also make them swell and itch.
5. It could be as simple as your dog rolling around in dead fish at the beach!
 6. It's not uncommon for a dog to come home with a foul smell after visiting another animal at the vet clinic.
 7. Sometimes, pets get stinky because they lick themselves too much when they're hot, making their skin taste salty–gross!
8. Dogs who eat fish regularly may have an excess of trimethylamine N-oxide (TMAO) in their system, which gives off a strong fishy odor and is excreted through sweat and urine.  Don't be shocked when your dog's urine contains a fish-like aroma if fish is part of their regular diet.
 9. Your dog's anal glands may be full and need to be emptied. Often anal gland issues can result in a very fishy smell coming from your dog's anus. From time to time, anal sacs need to be expressed, which means that the fluids and junk built up in them must be removed. Your vet or groomer can empty your dog's anal sacs, or you can even express anal glands at home yourself if you feel comfortable doing it.
Whatever the reason, if you're noticing that your pet smells more than usual, it might be time for a bath!
WHAT ARE THE SIGNS THAT YOUR CANINE NEEDS A BATH?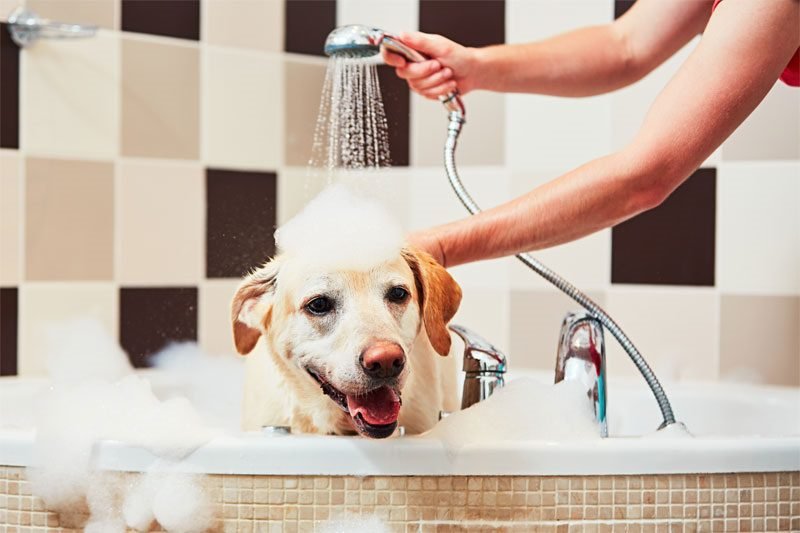 If your dog smells like fish, it could signify that they need a bath. Other signs that your dog needs a bath include if they are scratching a lot, if their fur looks greasy, if they have any skin irritations, or if they are starting to smell bad even after you've just bathed them.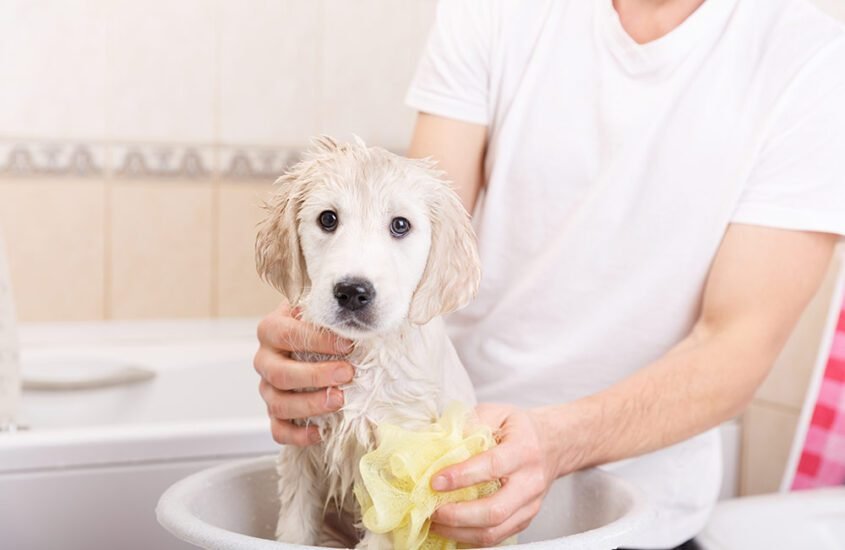 If you're unsure if your dog needs to be cleaned, it's always best to consult with your veterinarian. They can tell if your dog has an infection and might need some medication and prescribe other treatments. A veterinarian can also tell you what type of shampoo and conditioner would work best for your pup's specific needs.
HOW CAN YOU PREVENT YOUR DOG FROM SMELLING BAD?
You can do a few things to help prevent your dog from smelling bad:
Make sure they're well-groomed. This means regular baths and brushing their fur. You can also use a pet-safe dry shampoo in between baths.
Keep their ears clean. Wax build-up can cause infections that lead to a bad smell. Be sure to check and clean their ears regularly. Ear infections can have more significant repercussions than just the dog smelling bad; your dog's suffering can turn into neurological issues and seizures.
Feed them a healthy diet, not some human food scraps.
Get them a dental; if your dog has fishy breath, their teeth may need to be cleaned. Bad dog's breath often resolves if you identify and tackle the dental disease. Your dog's mouth has just as many veterinary needs as the rest of its body. Dental once a year or so can go a long way in improving your dog's breath smell.
TREATMENTS FOR THE CAUSE OF SMELL
There are a few things that could be causing your dog to smell like fish. If your dog has been swimming in a lake or pond, the fishy smell is most likely due to bacteria on their skin. This bacteria is not harmful to your dog and will go away on its own after a few days.
It could be an infection sign if your dog has never been near water and suddenly starts smelling like fish. Bring your dog to the vet if it starts acting abnormally, has a fever, or is dehydrated.
In some cases, dogs can also have allergies that cause them to smell like fish – these allergies should also be taken care of by a vet. If you suspect something is wrong with your dog, take them for a checkup immediately!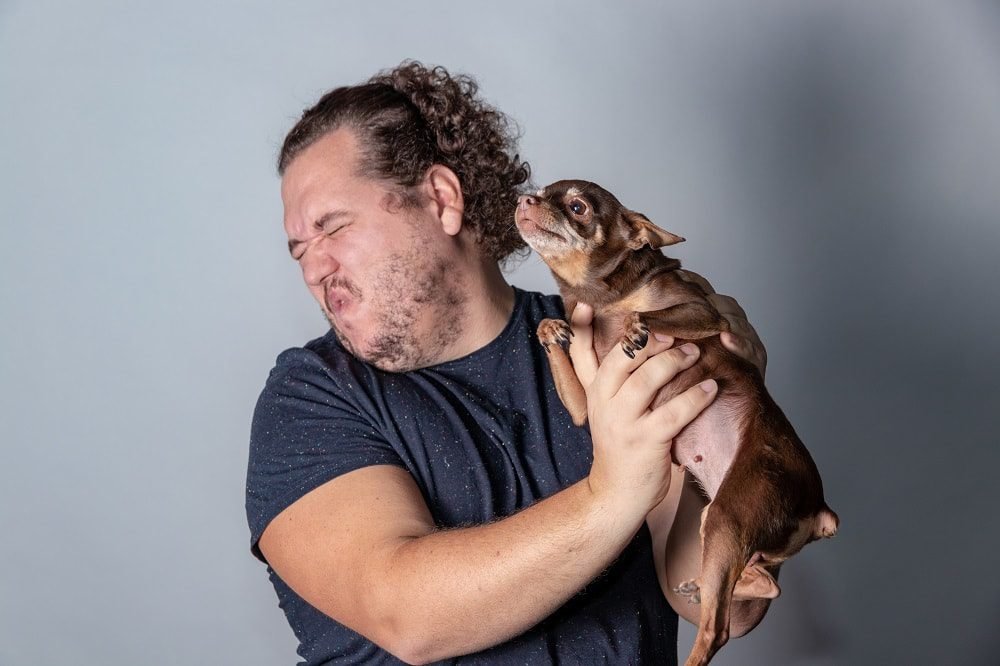 FINAL THOUGHT
It's normal for dogs to have some odor. But there are some things pet parents should not ignore – and if your dog smells like fish, something might be wrong. If your dog has a fishy smell and licks its back end more than usual, it could be a sign of anal gland problems. Other causes of a fishy smell could be anal sac issues, poor dental hygiene, an ear infection, or even skin allergies.
If you're concerned about your dog's fishy smell, you should talk to your veterinarian immediately to rule out any medical conditions. There's no perfect solution here; know that it is possible to keep your furry friend smelling good with some daily grooming.
Frequently Asked Questions
What home remedy gets rid of fishy smell on dogs?
You'll need to shampoo your dog once more if you can't take the vinegar smell. As a backup option, apple cider vinegar can also be used to eliminate the fishy scent. Many pet illnesses can be treated naturally with apple cider vinegar.
Why is my dog letting off fishy smell?
The most likely reason for your dog to smell fishy is that the affected anal glands need to be freed. The anal sacs in your dog's rectum are located on both sides and are the size of peas. An oily material that is present in these sacs is released through your dog's feces.
How can I get my dog's mouth clean and fresh-smelling again?
Use toothpaste that is specially formulated (and flavored) to be safe and effective for canine oral health. Keep a stash of dental chew toys in the toy box, and during playtime, active chewing can scrape off plaque and promote health.
How can I express my dog's glands naturally?
Add fiber to your pup's diet. Fiber helps keep stools soft and regular, which supports the natural emptying of the anal glands. Dietary supplements or high-fiber dog meals can be used to boost fiber to the diet. To help with bowel regularity, up the water intake with canned food or a pet water fountain.