Most pet owners would agree: the well-being and happiness of their pets often come before their own. These cats and dogs are like children to them, and who wouldn't do anything for their kids?
But what happens when you don't have anything? What happens when you yourself struggle to eat and find shelter?
As one homeless man proves, those priorities don't change. A woman named Wilma Price came across Patrick, who is homeless and recently got out of jail, where he spent two days for trespassing.
During that time, his dog, Franklin, was put in the pound. It would cost him $120 to get him out. And without a penny to his name, the homeless man knew he would have to beg. The sign Price saw him hold up was clear: he absolutely needed to get his dog out of the pound. He would only use the money he received for that.
So Price decided that she needed to help him out. Donations have started pouring in, and the two were reunited!
You can help the duo, too, by sending supplies and addressing donations to Patrick and Franklin at mrkspetshelter.org/donate.

"Wow what a day today has been. […] I run through Walmart parking lot and I see a homeless man sitting on the side of the road and the sign says 'my dog is in the pound help'. Of course, what do I do I've seen every sign in the world except that one, as seen 'I need a beer,' 'lost my job need help' I could go on forever but never this sign."
Price pulled over despite causing a minor traffic jam.
"[…]I asked him how much it was to get his dog out of the pound he said $120. Well, I had $8 to my name I told him I'd see what I could do. At first, I called the pound to verify the man's story was true and they said yes it was $120."
The pound later explained why the cost was so high: there was an impoundment fee, as well as a fee for all the shots and treatments the dog received. Overall, the animal was in good health, with no sign of rabies or other diseases.
Price, without money herself, then called a friend for help.
"[…] I tell her about this guy. She says well not go back and find out his story so I did. 30 years old his name is Patrick. I talked to him for a few minutes and he told me his circumstances and stuff and I told him well I'm getting the money to get your dog out so let's go down to the pound. I and Patrick go down to the pound honey give them all his paperwork […]"
All of Franklin's vaccinations were up to date. Price also found out that Patrick had spent 2 days in jail for trespassing, which was why his dog was impounded, to begin with.
"Franklin is the dog's name. He was shaking when he came out of the pound. It was so happy, happy to see the man so sometimes you just have to dig deeper and do what's right in your heart. That man loves that dog: on his backpack was the dog's bowl and toys and it's helping the dog against the world. The man was very very grateful he had tears in his eyes when the dog came out."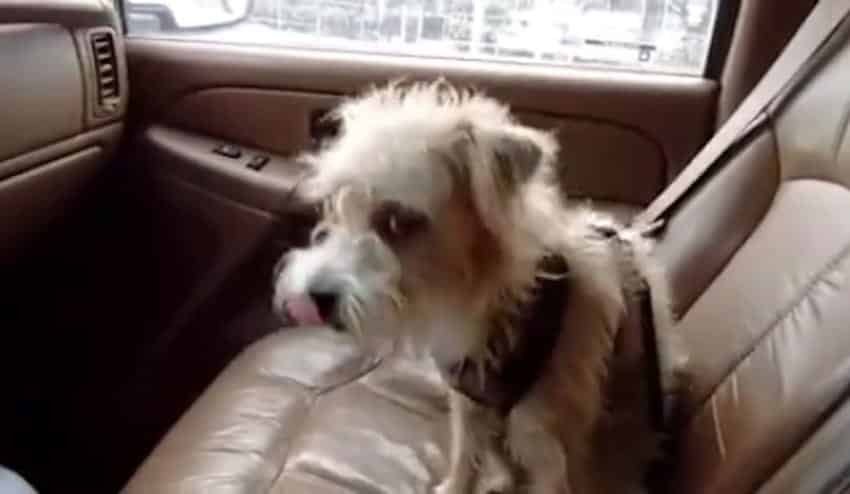 "We've all been in a bad situation in our lives, so remember always pay it forward you never know who that person might be that you help, but I know for a fact that man loves his dog, and he tried to give me the money he had collected. I wouldn't accept it because maybe he can have some dinner tonight. He said his dog eats before he does. […]"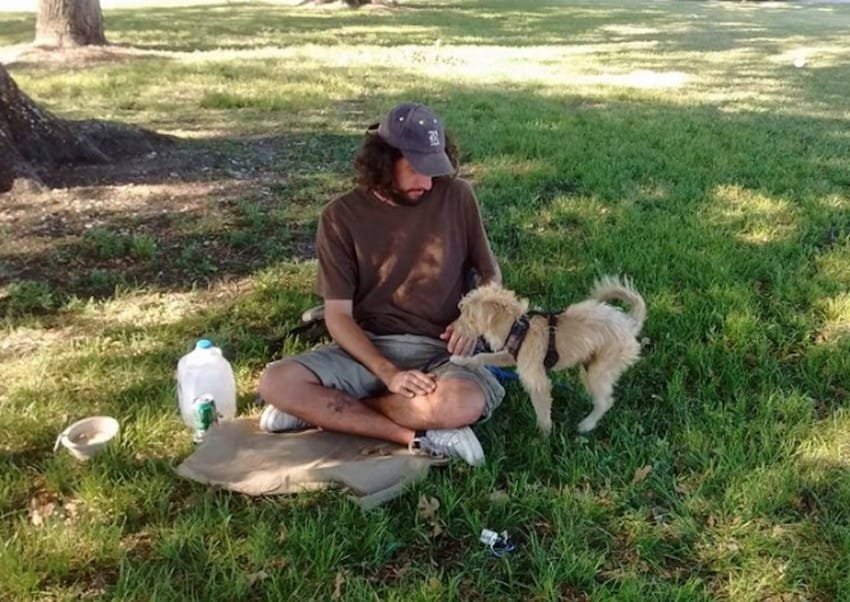 Price is now doing what she can to give Patrick and Frederick the items they need to at least survive. "[…] I'm attaching pictures of Patrick and Franklin this afternoon in Huntsville Texas less than an hour ago […] God please bless Patrick and Franklin tonight."
If you know someone who might like this, please click "Share!"