Some people don't think that animals actually smile; that they just look like they do while they're panting.
I personally don't believe that; dog smiles are totally real.
In fact, some dogs have learned to smile in front of the camera, like this amazingly happy bulldog.
Dogs who have been adopted definitely have something to smile about, since they finally have a happy home and a loving family to look after them.
This is the reason that Meatball the stubby little pit bull mix is smiling all the time.
Since he was rescued at a shelter in Central Valley, CA, the little meaty dog can't stop flashing the biggest smile.
And his memorable mug has made him a pretty popular dog in cyberspace; check below to see why people can't get enough of his photos.
Sweet little Meatball has a spectacular smile.
And since being rescued at a Central Valley, CA, shelter, the wrinkly little pit bull mix can't seem to stop smiling!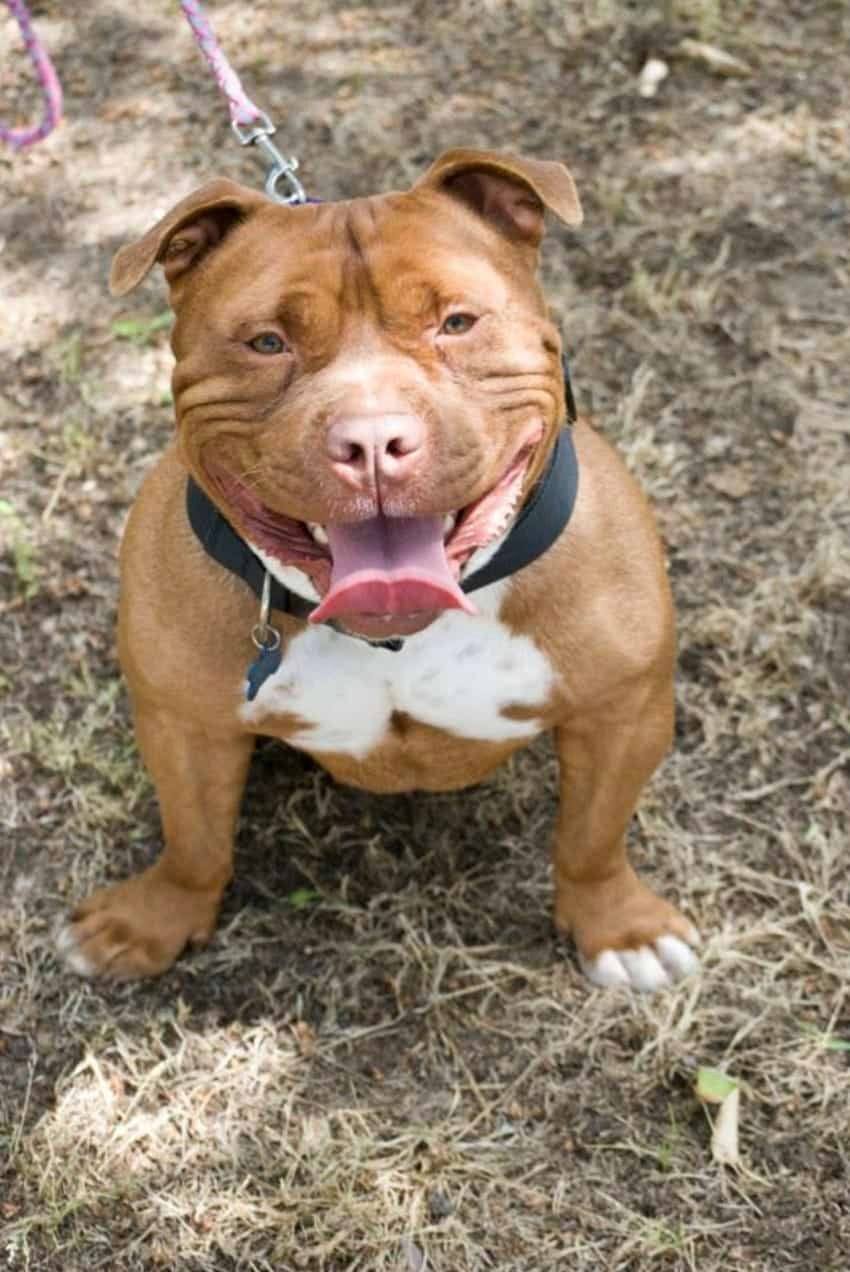 Meatball's — or "Meaty's" — owner Lisa Reilly first noticed his sweet mug in an online photo posted by Fresno Bully Rescue.
He reminded her so much of her late doggy called Kitty that she had to go visit him at the shelter.
Her feelings only grew for him when she experienced his sweet disposition in person; he was loving and eager for affection.
"My senior bully had passed away 3 months prior and I had the exact same feeling when I adopted him at 10 years old, so I knew this dog was meant to be his predecessor," she explained to petco.com.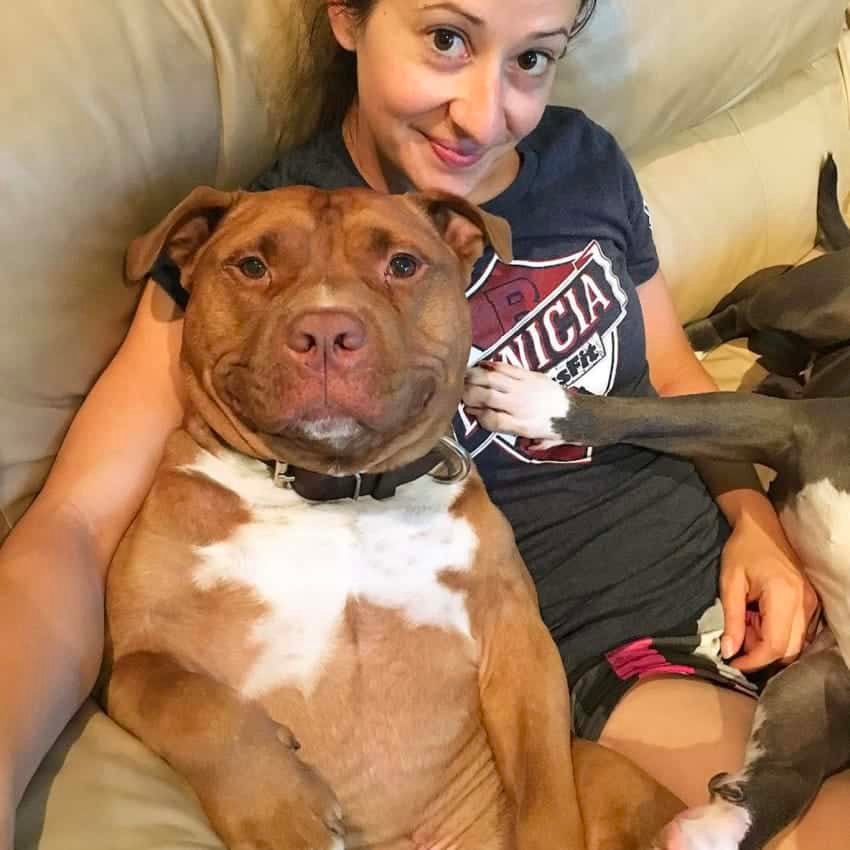 Poor Meaty hit a bit of a rough patch before settling in with his new loving family.
After contracting a bad case of a kennel cough, he was nursed back to health at the shelter before being able to head home.
But once he finally got there, he settled in quickly with Reilly's other rescues, which include two other pit bulls, Punky and Ricardo Tubbs, and two dachshunds, Bitty and Dappe.
Meaty got his name for his noticeably short and wide stature.
"Well, he looks like a bowling ball," Reilly says. "It's hard to really tell just how short he is in person, but he's so low to the ground and wide like a Mack Truck. And he would just barrel into you like a bowling ball of dog fat when we first got him. Thus, he became known as 'The Meatball,' Meaty for short," Reilly explained.
His sweet face and funny stature definitely make him a great focal point in the family's many photographs.
He is the main attraction on the Instagram account @loveabulllisa, which has thousands of Meaty fans.
And when he's not posing for the camera, he is either running around at light speed or draped lazily on the couch.
Still eternally grateful for being brought into a loving home, he loves to cuddle up with his mom and dad and is never far from their side.
Between his photogenic face and amazing personality, it seems like Meaty is the perfect package; the big rescue family is definitely happy to have him.
He helps prove that rescue dogs, as well as pit bulls, are just as beautiful and lovable as any other dog!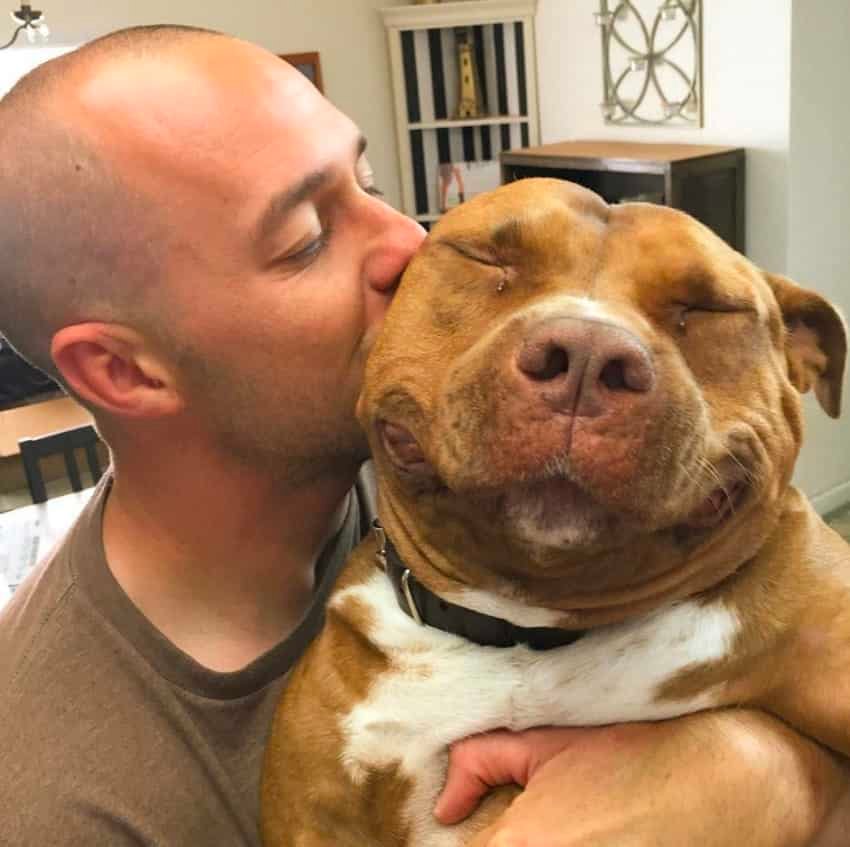 Make sure to follow more of Meaty on his Instagram page, we personally can't wait to see his smile in new photos soon!
If you know someone who might like this, please click "Share"!