A 22-year-old Ohio woman will spend the next 180 days in jail for her unthinkable act of cruelty. This monster of a person attempted to break her little dog's neck before throwing its body in the dumpster at her apartment complex. Miraculously, the small yet mighty dog survived.
Police was called to the scene when a maintenance worker found the poor dog — traumatized but breathing. The miracle pup, now named Honey, was in good health when she was found. Just to be safe, she spent the next few days recouping at the Metropolitan Veterinary Hospital. It was there she met her soulmate, Copley Police Officer Chris Santimarino. The second the officer laid his eyes on Honey, he felt an instant connection. Then, the selfless officer made a decision that changed both of their lives forever. This is incredible!
Keep reading to find out what happened between Officer Santimarino and Honey the miracle dog…
Meet Honey, a tiny one-year-old dog with an incredible tale to tell. Though the first chapter is full of abuse and trauma, her second chance has only just begun…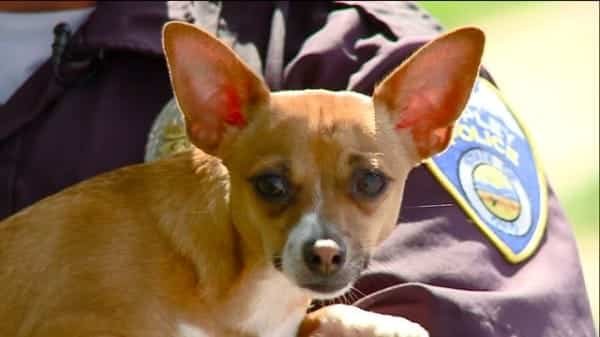 This 22-year-old woman attempted to break her tiny dog's neck. Now, she's spending the next 180 days in jail for animal cruelty.
A maintenance worker found Honey in a dumpster behind this fence of the woman's apartment complex. Miraculously, the dog was still alive. She spent the next few days in the hospital.
A few days later, while in recovery, Honey met her new best friend. Copley Police Officer Chris Santimarino immediately fell in love with the abused dog.
Officer Santimarino was shocked that a human being could be so cruel. It didn't take long to realize Honey belonged with him; he quickly adopted her!
"She's smiling… she does that. And she's now part of our family."
If you know someone who might like this, please click "Share"!