Every dog is a special, beautiful creature worthy of our love — if you know a dog, you already know that they might be the most lovable goofballs on the planet.
But some dogs are also brave, intelligent, and loyal beyond a shadow of a doubt. These qualities are at their pinnacle when it comes to the courageous military and police service dogs that defend our safety every day and often put their lives on the line for all of us.
All dogs deserve dignity, but service dogs deserve a whole lot of our respect, too.
When one of these brave soldiers pass on, it's fitting that they are given a hero's burial.
For the folks who adopted a beautiful military K9 named Nero, that's exactly how they decided to honor his passing.
Nero passed on in late October 2016, but he didn't die without recognition.
Instead, this noble dog got every last accolade he deserved for his bravery and heroism.
Read on below to learn more.
This is Nero, a shepherd dog who served in the military and passed away in late October 2016.
After serving in Afghanistan as CWD (Contract Working Dog), he was taken in by Mission K9 Rescue, an organization in Texas that rescues and re-homes military dogs when they come back.
Nero was the very first dog they took in from fighting in Afghanistan, and they found him a happy home.
According to the Mission K9 Rescue Facebook page, Nero went home with his mom, Judie, shortly after returning from his tour overseas.
With her, he lived for two happy years and was given all the love and affection you can imagine.
In a statement to Mission K9, she wrote, "May God bless you and hold you dear for your brave and wonderful heart."
Nero served as CWD for seven years, working hard to keep this country safe.
When he came home, he was eight years old and ready to retire to a loving home.
If anyone deserves endless belly rubs and spoiling, it's a warrior like this guy.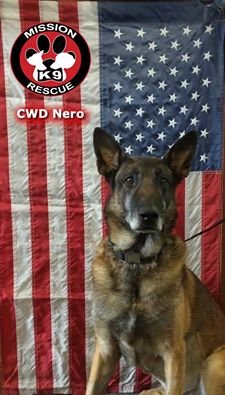 He almost didn't get the chance for the happy retirement he so rightfully deserved.
A pressure problem of some kind on the plane that brought him back from Afghanistan meant that Nero arrived in the U.S. on the brink of death.
He was rushed to the vet thirty minutes after landing, and they managed to save him.
Shortly after his scary arrival in the US, Nero found his forever home with mom Judie, who loved him to bits, and even threw him a birthday party every year — that's one lucky dog!
At eight years old, Nero was already considered a senior dog by the time he found his home and suffered some health setbacks along the way.
In 2014, he was treated for cancer in his feet, but no matter what he went through, he had a loving and loyal family by his side the whole way.
When Nero passed away, he had lived a long, full life of eleven years.
He had a wealth of rich experiences and worked hard to protect people for most of his life.
The hospital where he died covered him with a flag in a gesture of respect, and we think it couldn't be more appropriate.
His mom, Judie, writes:
"A hero died on this day, Oct. 26, 2016. Let us celebrate his life and honor his name. May we raise up prayers of thanks for his life and ask for eternal peace and love for him. Hero, Nero."
If you're touched and honored by everything that this brave warrior fought for, check out Mission K9 Rescue to learn more.
If you know someone who might like this, please click "Share"!