Dogs are man's best friend, and for some dogs, their loyalty continues even when their owners are no longer alive.
Moose is a 3-year-old Lab mix in New Jersey. His owner recently died in the hospital, turning Moose into an orphaned pup.
Poor Moose sat by the hospital bed for a while, loyally waiting for his owner to return. Someone captured the touching moment in a photo, and it's so heartbreaking that it went viral.
NorthStar Pet Rescue and Eleventh Hour Rescue both posted the photo on Facebook, hoping that it would help attract a new family for Moose. One glance at this picture, and you can tell what a loyal, loving pup he is.
"He's a sweet happy boy by nature," the caption said. "He just needs people to help his heart heal."
"Let's mend this broken heart, together."
People couldn't get enough of Moose's touching story.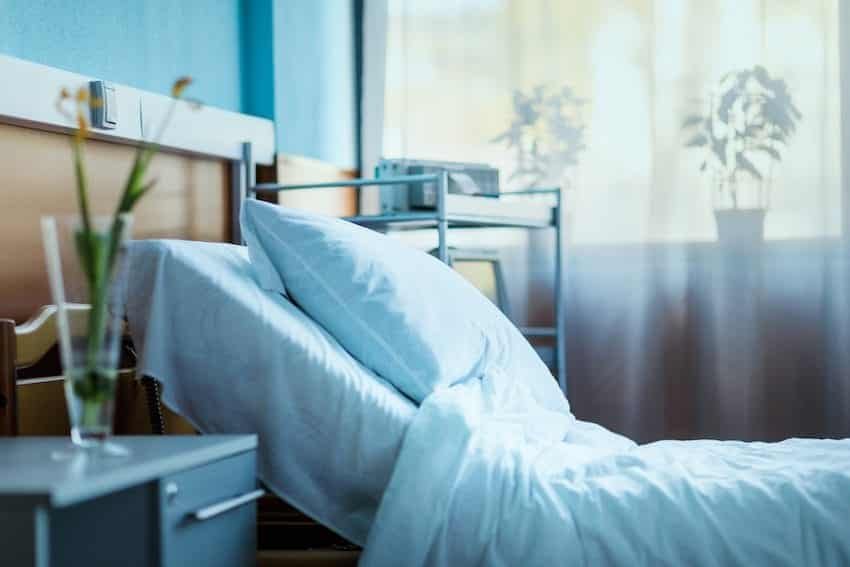 Saying goodbye to a pet isn't easy, and the process isn't any easier when things are the other way around.
It's hard to prove whether or not dogs "grieve" in the human sense of the word because they can't communicate their feelings to us out loud, but it's very clear that they're affected by the deaths of their companions.
Pet owners often notice their dogs seem down or anxious when a companion goes away or dies. The animals might become clingy, disinterested, or lethargic.
Studies show that similar areas of dogs' brains light up when they're feeling parallel emotions to those of humans, according to American Kennel Club.
"Dogs are highly intuitive and sensitive, more than people give them credit for," Jme Thomas, executive director of Motley Zoo Animal Rescue, told the AKC.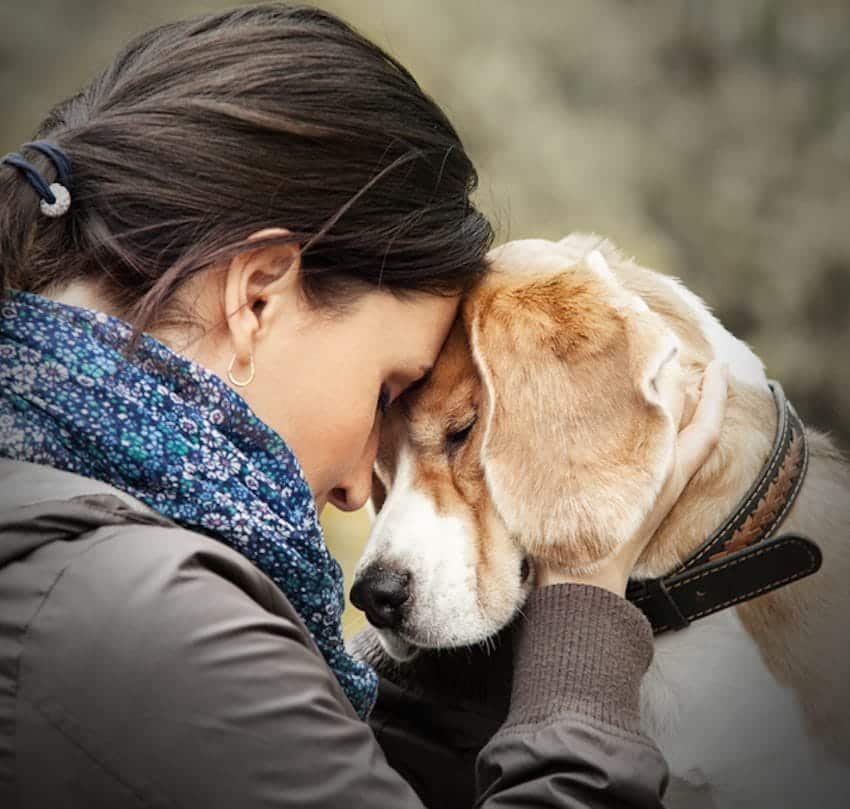 Sometimes, dogs make their grief extremely clear to the point that it's heartbreaking to watch.
After Moose, a 3-year-old Lab mix lost his dad, he sat patiently by the hospital bed and stared out the window.

Moose ended up at a local pet rescue in Rockaway Township, New Jersey. The rescue posted his photo and story in hopes of finding Moose a new home for the rest of his days.
"Moose sat patiently next to his dad's hospital bed, waiting for him to return, not knowing that 'Dad' had passed away," the rescue wrote on Facebook. "Moose has now been returned to our friends at Eleventh Hour Rescue and he's taking the loss of his dad pretty hard."
The rescue added that Moose is a "sweet happy boy by nature" and "just needs people to help his heart heal."
While Moose is OK with dogs, he really loves people.
"So much so that Moose would do best in a home where he hasn't left home alone all day long, he misses his people too much," the rescue wrote.
Also, he's housebroken.
Who could possibly resist Moose's sweet face and story? The rescue's post went viral; it was shared over 4,000 times, and people all over the world wrote comments about how touched they were by Moose's story.

It became clear that Moose wouldn't have to wait very long for a new home. The adoption applications began rolling in.
"Thanks to the power of social media, Moose has received several applications & we are hopeful he will find a forever home soon!" the rescue wrote in an update.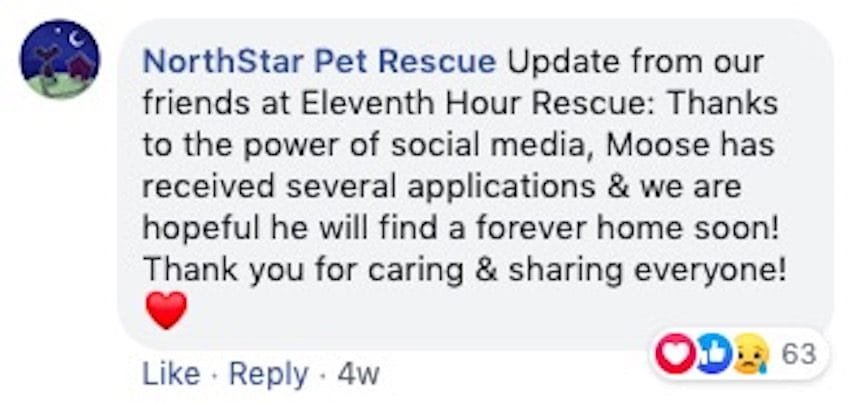 Just three days later, Moose officially went home with his new forever family.
"MOOSE HAS BEEN ADOPTED by a wonderful family who will care for and love him for the rest of his life! Thank you again to everyone who shared his story!" the rescue wrote.

By this point, hundreds of people were following along with Moose's story, and many people wished him luck with his new family.
It's a shame that only one family was able to take Moose home because it seems like there were plenty of people lined up with love to give him!
When it comes to adopting dogs who are in grief, there are a few steps that experts recommend to help their hearts heal.
First and foremost, it's important to try to encourage a grieving dog to engage in his favorite activities. In Moose's case, this might be quality time with his humans. Treats and toys never hurt, either!
On the other hand, it's important not to force it. If he doesn't want attention or refuses to play, don't force him! Also, pet owners should try to avoid spoiling their pets if they start to exhibit problematic behaviors like extreme attachment or howling.
One study published in the journal Animals found that grieving behavior in pets lasts for less than six months, but that's still longer than many pet owners would expect. Moose may not be back to completely normal for quite a while yet.
Moose may never get his dad back, but he has many happy years of love ahead of him, thanks to the rescue group and his new family.
If you know someone who might like this, please click "Share"!