I was looking for a foster pup and Wilbur, a four-month-old Dachshund with a dash of Papillon or Chihuahua I sealed the deal. When I got him home, it became clear that he had a shorter lower jaw than his upper one. His smile is more pronounced than his face, but it doesn't matter. He is adorable.
I had him neutered two months later. When I picked him up, there was a handwritten note attached to his aftercare instructions suggesting that he should be seen by an orthodontist as soon as possible. I was in disbelief. I thought it was a joke, but no. My vet says that Wilbur has an issue with his teeth and needed treatment right away.
Luckily, I found Jennifer Lynn, DVM who has dedicated her practice exclusively to canine and feline dentistry for the past 15 years. Dr. Lynn explained to me that Wilbur had a Type II, base-narrow malocclusion. This meant his mandible (lower jaw) was much shorter than his maxilla (upper jaw) also known as overbite for most people.
His mandibular canines, which are normally positioned in front of the maxillary ones were instead behind it. This meant that they angled inward toward his tongue. His permanent teeth were still being born, so they hadn't had the chance to do any damage. But eventually, this misalignment could prevent him from closing his mouth and affect his taste. But the good news was that if treated early, Wilbur can have a beautiful smile.
Why not just remove them?
Canine teeth are important because their roots are roughly double the length of their crowns so removing them requires oral surgery and sometimes bone grafting, according to Dr. Lynn. The lower canines are important for grasping and holding the tongue in place.
What about crown reductions?
When the crown of your pup's tooth is cut, a small portion of its pulp is exposed. Pulpotomy is when a small portion of the pulp is removed and the top of the tooth is shortened and reformed. This process has potential complications and needs dental X-rays every year for monitoring.
Another option is ball therapy. It's possible for your dog's teeth to shift into place when they're chewing on a right-sized rubber ball for fifteen minutes three times a day. If your dog is like Wilbur who only likes sticks and bones, then you can't try that procedure.
Braces are the most gentle way to deal with malocclusions. Rather than surgically removing teeth, they're carefully coaxed into position so that their natural alignment can be restored and maintained over time. Braces come with rubber bands or elastic chains. With Wilbur under anesthesia, a series of buttons were cemented to the lower canines and molars at the back of his mouth so that he could not bite down on anything.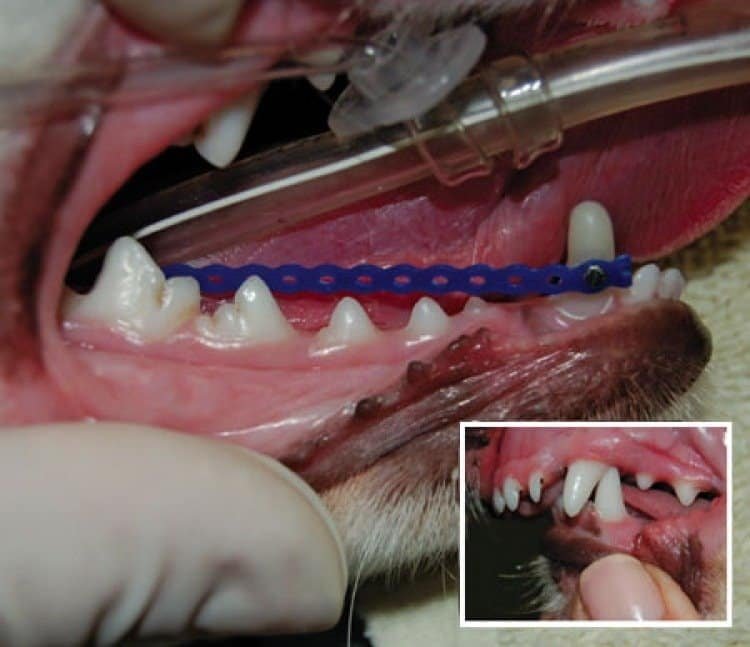 With Wilbur under anesthesia, the dentist cemented buttons to his lower canines and molars. With composite extensions, pressure is supplied by elastic chains attached to buttons that gradually shift his teeth into the desired position. The biggest challenge for dog braces was keeping the elastic chains intact. Almost daily, Wilbur managed to dislodge one while chewing on found objects. One time, he managed to pop off a button so they had to put him under anesthesia to put a new one.
Every dog is entitled to a comfortable bite according to board-certified veterinary dentists Dr. Anson Tsugawa and Dr. Kristin Walker, who specialize in oral surgery for trauma, fractures, and conditions such as oral cancer at Dog and Cat Dentist. On occasion, however, they have had to explain that orthodontic treatment is not just for cosmetic reasons, it's for the sake of improving function and eliminating damage.
To avoid complications, dogs should be evaluated as early and often in their lives to prevent or correct dental problems. Multiple visits are required for treatment – proximity is key. Dogs with long distances to travel may appreciate fewer appointments. Or sometimes, a mold of the dog's teeth is sent to PetAlign in New York. They use it to fabricate five or six progressive aligners that can be changed at home with ease. It's important for a veterinary dentist or specialist to determine how best to handle your pet's teeth issues because each dog has their own unique oral profile.
If you know someone who might like this, please click "Share"!