Imagine you and your dog are having a walk when suddenly she starts chewing on a chicken bone. If she swallows it, you might be worried about the outcome: whether or not it will make her sick.
Keep your dog away from chicken bones as it is not safe for them to eat. According to Dr. Lindsey Bullen, a board-certified veterinary nutritionist at BluePearl Specialty and Emergency Pet Hospital in Cary, North Carolina, there are many risks associated with dogs eating chicken bones.
Why are chicken bones bad for dogs?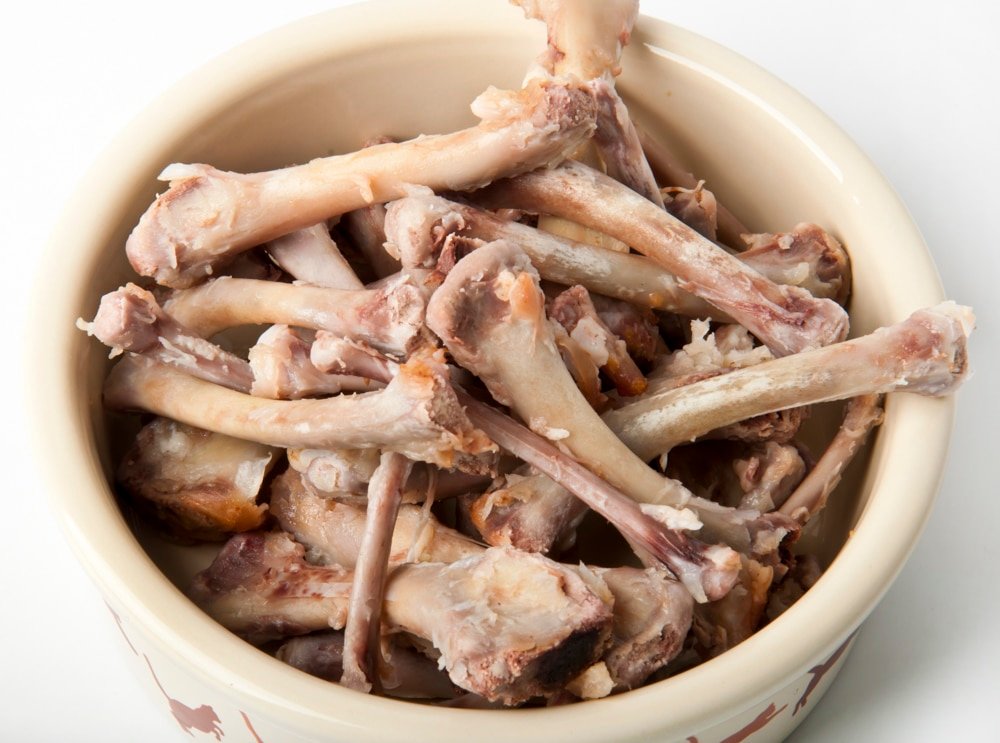 According to Dr. Bullen, pet owners should never feed their dogs chicken bones because they can unbalance the dog's diet and make them ill. "It is best that companion animals be on a complete and balanced diet."
Bones might provide your dog with nutrients like calcium, phosphorus, and magnesium. However, do not add bones to their diet because they already get what they need from commercial food. It could overdose them by providing too many unnecessary nutrients that are found in wild animals' diets but aren't necessary for domesticated dogs."
Not only can eating dog bones cause injury to your pup, but it could also be fatal. Dr. Bullen also warns of the risks associated with eating bones, such as GI obstruction and dental fractures which can lead to medical emergencies like death in some cases.
Raw chicken bones for dogs
Dogs should not eat raw chicken bones because they can lead to bacterial or parasitic infections. "In my professional opinion, the risks associated with bones vastly outweigh potential benefits. For example, raw bones have a significantly increased risk of causing bacterial and parasitic contamination (a pet does not have to be showing signs of illness to be shedding harmful bacteria in their stool). Additionally, if the bones are broken down to smaller pieces, it can be a risk for GI obstruction and perforation (which is a surgical and life-threatening emergency)," Dr. Bullen said.
Cooked chicken bones for dogs
To avoid any dangers, we should never give cooked bones to our dogs. This is because it's easier for them to break apart and cause injuries. Dr. Bullen says that cooking bones make them easier to splinter and break because it starts to soften the bone, increasing the risk for GI obstruction or perforation. Splintered bones can cause your dog to get cuts in its mouth.
Things to do if your dog eats chicken bones
If your dog does eat a chicken bone, you'll want to watch out for signs of an obstruction or perforation. Monitor her stool carefully and if she has any symptoms contact the vet immediately!
Symptoms of internal bleeding and blockages can include:
•Bloody stool
•Constipation
•Abnormal behavior
•Straining to poop
•Bloated abdomen
•Loss of appetite
•Vomiting
•Lethargy
If your dog has had a bone stuck in her digestive tract for longer than 72 hours, you should contact the vet immediately.
Bone alternatives for dogs
Dr. Bullen says a durable chew toy is the safer choice compared to chicken bones for your dog.
Your BFF is not a wolf
Some pet parents choose to feed their pets like wild wolves, which means raw food diets that include bones. However, Dr. Bullen insists that it's important not to forget that wolves ate the way they did out of necessity and this isn't always best or safest for our domesticated dogs.
Dr. Bullen believes that it is important to remember the benefits of good nutrition and medical care when feeding pets because if we fed them like their neanderthal ancient cousins or wild animals, they would only live for about 5-6 years (not including captivity) on average instead of living double-digit lives under our care.
Just because a wolf eats bones doesn't mean our pets should, Dr. Bullen said. "Wolves eat them because they have to and they have no other (safer) alternative," she added."So next time you're eating chicken wings, don't share them with your dog (no matter how cute her puppy dog eyes are)."
If your dog accidentally eats a chicken bone, do not panic. Watch her closely for any signs of illness and take her to the vet if you see something abnormal.
If you know someone who might like this, please click "Share"!