Hello, my name is Artūras and I'm from Lithuania. I create steampunk art and use various antique stuff and metal details.
I immersed in the new type of arts some years ago. It overpowered me as soon as I got acquainted with it. That is a very strange type of art full of unexpected solutions and inventions and it fits one-word "Steampunk." I use the most diverse materials for work starting from wares, antiquarians and ending with rubbish that is useless. It is a pleasure for me that I can help to transform an item that was thrown and is useless giving it the opportunity to exist in a new shape, in a new form as if I continued its existence in an already artistic expression.
I present my works and advertise them mostly on the Internet. Steampunk style lovers from Lithuania, Netherlands, Germany, USA, and Australia have acquired some of my works. I want to share my works with you.
A mole
Once upon a time, a mole lived and he had his own mole hole (a house). It was his portable property which could stand anywhere and no land tax had to be paid for this because it was a mole, spectacled and armed, with exclusive length nails which helped him to dig the longest tunnel with very little effort.
Of course, he didn't know anything about the secret exit. A caterpillar was running out through it as soon as he started feeling danger. It always happened but as soon as it gets to know about it, that will end or maybe they'll become friends…
That's the story that was born in my head while I was turning over the corpse of vacuum cleaner in my hands.
Turbo Ostrich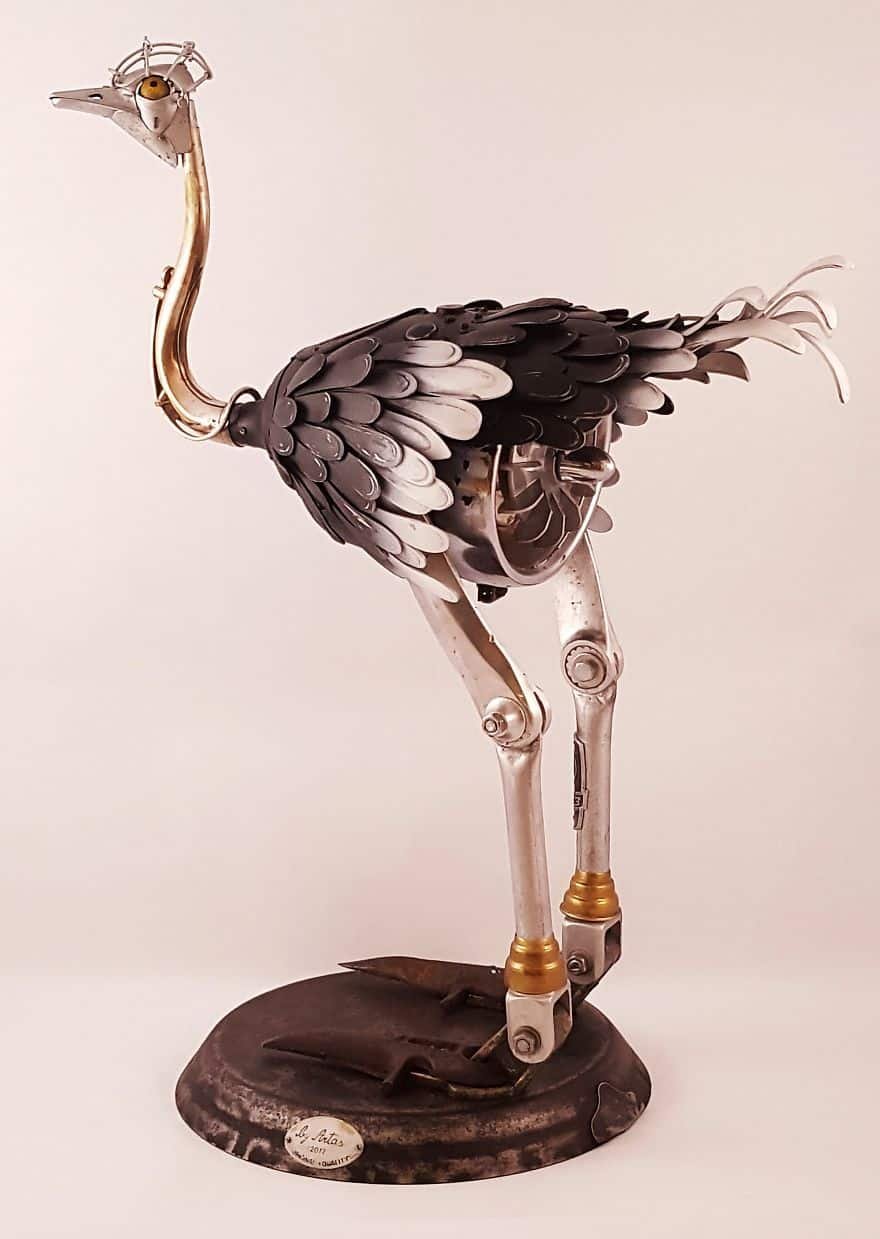 As soon as I noticed an ostrich I understood that it can be a good object to fulfill my ideas. That's a bird symbolizing speed, power, and gracefulness.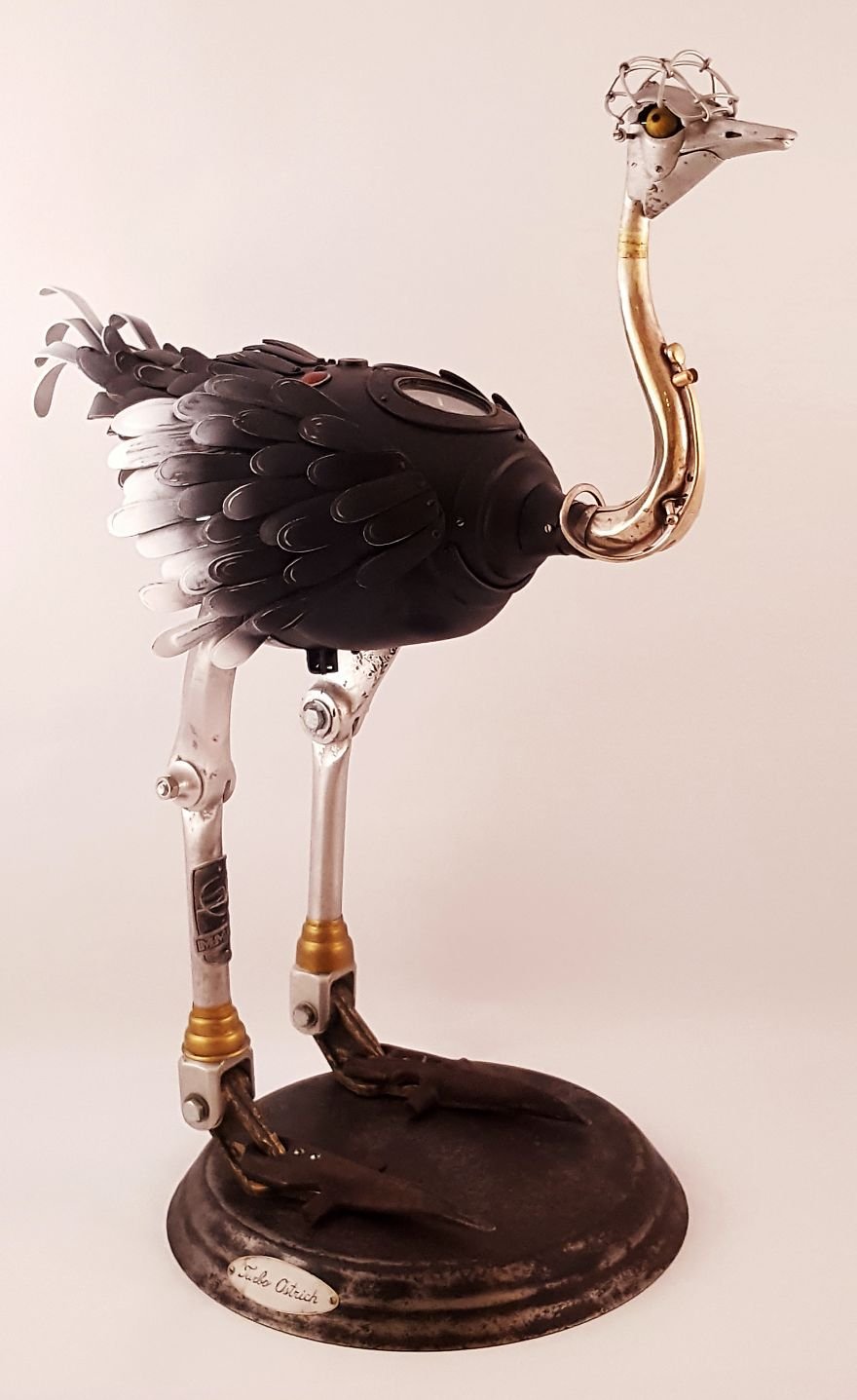 The main detail which the creative process began with was the best part of the saxophone. Its graceful bending matched with the neck of an ostrich.
A chameleon among flowers
I've noticed that a lot of people like my chameleons. I've already created four of them. They're interesting and weird living beings which charm with their color and strange shape of the body.
I always find compositions of different textures and colors. Each of them is lovely for me to even though that one among the blossoms I like most.
Diving champion
The emergence of this sculpture was initiated by the old scissors which were received from the aunt to chop the fins. Their curved shape fated this scissors to become Hawthorn. Later everything self-assured.
Again everything turned into the feeling as if I'm creating the animation movie character. That's the way it goes by itself, as I'm trying to represent each animal with unusual attributes and shapes. Then they become interesting, even funny, but it's exactly my wish and my purpose – to cause curiosity in people and reward a smile. I think that a good dose of humor hasn't hurt anyone until now.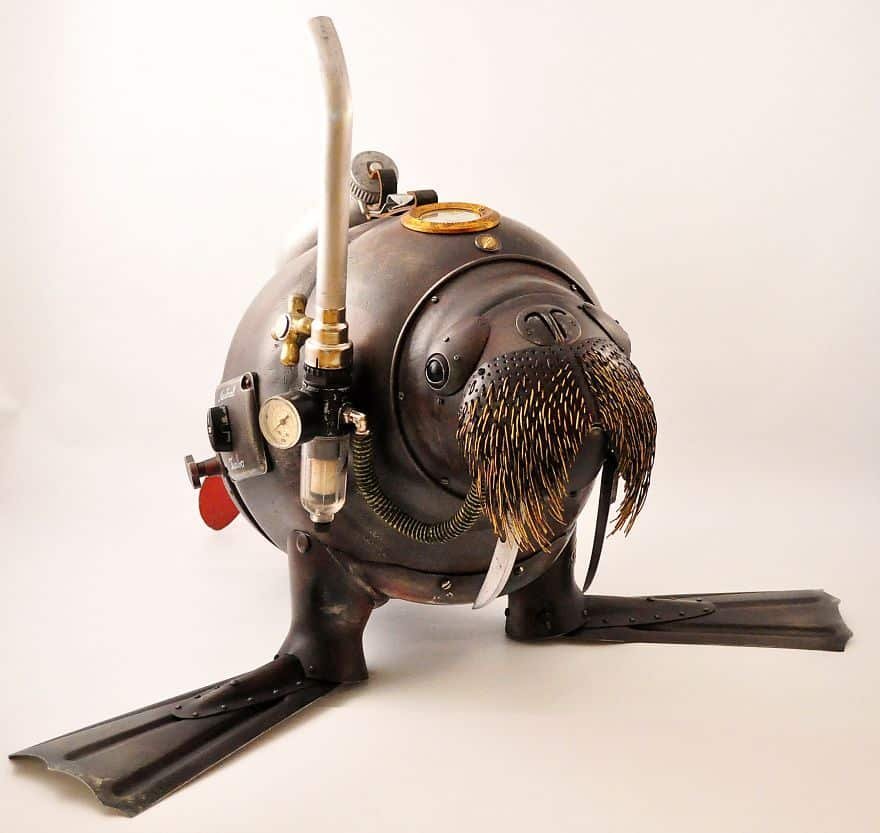 Some time ago I had created a walrus but it was much smaller. It completely surpassed my expectations. That's a real diving champion.
If you know someone who might like this please click "Share" below!