Devastating floods have descended upon the state of Louisiana. According to The Weather Channel, at least 40,000 homes have been impacted, 30,000 people have been rescued, and at least 11 people have died. In addition, approximately 1,000 pets have been rescued. But amidst the horror and destruction, countless people are doing whatever they can to help — and that includes rescuing the countless animals trapped in the flood's wake. V
Volunteer rescuers like Mike Anderson and Darrell Watson have been searching for any signs of life, riding through the floodwaters and risking their lives to save whoever they can. So far, they've rescued nearly 100 lives, both human and animal.
Recently, Mike and Darrell found two pit bulls struggling to survive in four feet of water. Mike says there's a good chance they were in the water for up to 16 hours.
Not only are Mike and Darrell searching for more lives to save, but they've also volunteered to foster the two pit bulls, should the animal shelters be too full to hold them. Simply incredible.
Baton Rouge was recently hit with deadly floods, and volunteer rescuer Mike Anderson is determined to save as many lives as possible.
Recently, Mike and his friend Darrell rescued two pit bulls who had gotten separated from their families and were trapped in the flood's wake.
So far, Mike and Darrell have saved 100 lives, and they don't plan on stopping anytime soon.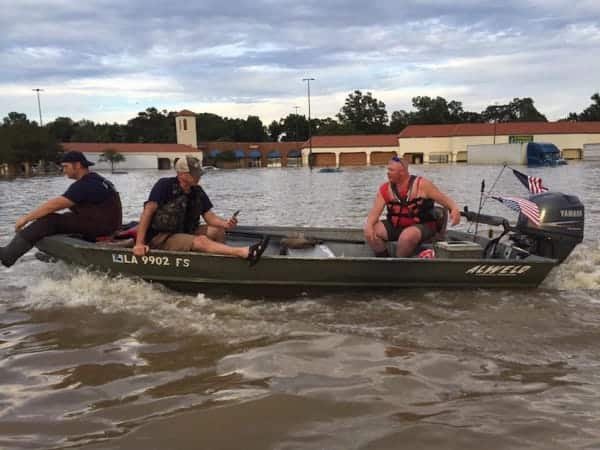 They're not the only local animal heroes. Josh Petit recently posted the following photo on Facebook, and it's quickly gone viral.
"Baton Rouge got flash floods this morning going from dry land to 8 [ft.] of water in people's houses within [two hours]! Extremely bad situation.
Out the corner of my eyes, I [saw] a bush shaking! This is all I saw! Eyes and nose barely above water. She could barely tread water anymore. She was so worn out and had the saddest eyes I [had] ever seen. So scared for her life! We saved her, and she came [to lie] her head on my lap, and cried and moaned like a big baby! She was thanking me.
I thank God for letting me notice her. We then rescued a vet and his animals, and she went with them to dry land."
If you know someone who might like this, please click "Share"!